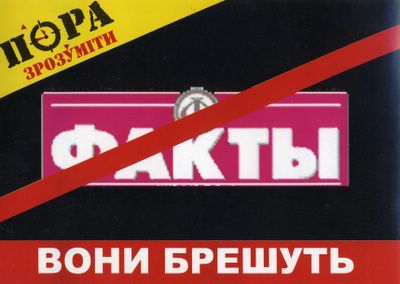 Propaganda sticker made by PORA!: "FACTS (A Newspaper): They Lie"
PORA! has recently made a similar sticker that says "Zvarych Lies!"
The accusations of dishonesty against Zvarych seem to be genuine, lest one think that somehow the "opposition" in Ukraine got to Columbia and NYU first, paid some bribes, and thus it was announced that this fellow lied through his teeth. But I am sad to see that neither Yushchenko nor Tymoshenko are pursuing this matter rigorously, in any open and transparent manner. Thankfully activists from PORA! are, living up to their promise to put pressure on anyone who engages in "lies, corruption, and communistic behavior," and they have put Zvarych on their blacklist (
http://pora.org.ua/blacklist/
in Ukrainian only). This helps to demonstrate, by-the-way, PORA!'s lasting importance and effectiveness as a grassroots organization—I think this is PORA!'s genuine future and effectiveness, and am quite surprised by comments in punditland, especially on other Ukraine blogs that I have read, stating that PORA! has or is destined to become obsolete. Hm. . .hardly!
But I want to make some general comments. To my mind, the Zvarych case should make us all think about two related issues: 1) the reputation of diaspora Ukrainians and Western expats (i.e., those without Ukrainian roots) in Ukraine in general, and 2) the related matter of abuses by the same people. To begin with the latter, what bothers me about Zvarych's case, beyond someone lieing to get into a position of power and influence, is that it might be the tip of an iceberg; and however small that iceberg might be, its one worth discussing.

In the case of Zvarych, it seems that he lied for mostly "patriotic" reasons; i.e., it seems that he lied not because he wanted to enrich himself at the expense of Ukraine and Ukrainians like the oligarchs do, but because he so desperately wanted to be part of building a post-communist Ukraine. Whatever be the case, his lies are indefensible. And I wonder just how many diaspora Ukrainians and Western expats are in Ukraine taking advantage of the good-faith and relative inexperience of Ukrainians and of their own privileges and status as "people from the West," just in order to get ahead for not so glorious and patriotic reasons. People like this do a diservice to all the sincere diaspora Ukrainians and expats living in Ukraine, of which there are indeed many. So. . .is there are a problem of people from the West using their status and/or privileges as Westerners to manipulate the situation in Ukraine for the sake of their own power or influence or prestige? Maybe not that great of one. . .

Now, as for the former point, I know that I am not the only diaspora Ukrainian who was initially shocked or dismayed by the rather cold and unreceptive attitude that many—but certainly not all—Ukrainians have toward their diaspora kin. It was hard to be told over and over again that I was not Ukrainian in any way, shape or form, and that I was purely American, etc. Although I do not at all agree with the notion that I am not Ukrainian in any way, I do know quite well that I am very much so American, and that they are not, and that that sets me and all the rest of us diaspora (whether Ukrainian-American, Uki-Canadian, Uki-Argentinian or Australian) quite apart from our Ukrainian kin, no matter how hard we try to emphasize that we are quite Ukrainian in many ways, too. As far as I am concerned, we are Ukrainian-Americans or Canadians, etc., which means that we are neither plainly American (etc.), but also are definitely not plainly Ukrainian--we will ever only be Ukrainians with a dash; we will never be unqualified Ukrainians. (And those who come to Ukraine and whine about the conditions do a good job of making that abundantly clear, if you know what I mean!) Along with that, it was also hard to discover that a lot of Ukrainians also do not have such a high opinion of diaspora Ukrainians—and here we can add in Westerners in general and hence of the expats—because of many diapora Ukrainians' and expats' attitudes and behaviors while in Ukraine. So I want to talk about that for a moment, and ask whether diaspora Ukrainians and Western expats in Ukraine deserve the bad rap.

One of the major things that sets up this bad rap is the way in which a lot of diaspora Ukrainians and Western expats complain about the living conditions, the language situation, and the culture of customer service in Ukraine. Of course, not every diaspora Ukrainian and American expat who visits Ukraine comes and whines very vocally about these things, but there are plenty who do, and these complaints don't fall on deaf Ukrainian ears—and often, the complaints are told directly to Ukrainians, and usually not without a bit of of condescension. And from some of my Ukrainian friends, I know that sometimes the Ukrainian listening to these complaints will completely agree with the person and will have no trouble accepting what is being said; but more often than not, the person, whether s/he agrees or not, will find something troubling in being told that the living conditions in their country are savage, or that the language situation is a mess and that Ukrainian speakers speak a too Russified Ukrainian, etc.

And I also want to say that I often felt annoyed at the gatherings of fellow Westerners in Ukraine because of the apparent hegemony of the view of Ukraine as a silly little, backwards country. Such things, along with the actions of people like Zvarych, really damage our reputation among a significant number of Ukrainians, and I can't for one say that diaspora Ukrainians and Western expats are not largely at fault for that.

(By the way, I may not have had a wide enough experience with the diaspora and expat community in Ukraine, and mind you, I am certainly not talking about all the diaspora Ukrainians and American expats living in Ukraine. I did meet a folks here and there, particularly in L'viv, whom I thought had what increasingly seemed to me the gift of being able to accept, experience, and live in Ukraine on its own terms without judgment. Also, I had a fantastic time talking with some of the diaspora Ukrainians and Western expats that were regulars in the bar "Baraban" in Kyiv, which was the salon of the OR. However, people like these seemed to be in the minority; the majority seemed to me to be whiners. Thus, if my experience was too narrow and I am unjustifiably making an issue of an attitude that truly only afflicts a small minority of expats and diaspora Ukrainians in Ukraine, I will stand joyfully corrected!)

Of course, there are other reasons why diaspora Ukrainains and Western expats have somewhat of a bad reputation among some in Ukraine other than the diaspora Ukrainians' and Western expats' putting the proverbial foot in their mouth vis-à-vis their comments that make clear their very Western passions for their very Western creature comforts; but that does not mean that one is therefore free to go on putting one's foot in one's mouth, either. But before I continue, of course a lot of those Ukrainians who do have a negative image of the diaspora and expats in general do so as result of the anti-diaspora, anti-foreigner stance of the post-Soviet authorities, and also because some of them are resentful of what we have in the West that they do not. Of course, whether they are right or wrong to be thusly resentful, the diaspora Ukrainian or the Western expat certainly is not right in making condescending comments about the way things are in Ukraine that will only stoke the fires of that resentment. In the end, all the whining just proves that one is actually an Ugly American (or Canadian or _______ fill in your own blank), or rather, more a Westerner than a Ukrainian by virtue of one's need for more creature comforts.
There is nothing wrong with having a difficult time adjusting to lower standards of living when one encounters them, I suppose; but one should also keep in mind that Ukraine by global standards is actually quite well off. Ukraine is NOT India NOR Subsaharan Africa; it is NOT a Third World but a Second World country. Furthermore, one can in Ukraine enjoy a Western standard of living, for the most part, but only in the cities and definitely not in the smaller towns and villages (which one can also more or less do in truly Third World countries as well). Thus, on the other hand, life for many average Ukrainians is much closer to how it is lived by most of the people of our earth than it is for an average Westerner, and thus travel to Ukraine is an important opportunity for any Westerner, whether diaspora or not, to learn some important things about the world we are living in. But I have learned that a lot of diaspora are generally shocked to see how their Ukrainian kin live. And of course, being relatively OK by global standards does not mean that there is nothing to improve. Of course there is: an Orange Revolution did happen in Ukraine for genuinely populist reasons, but I believe that unless one can really learn to accept and see things in Ukraine as closely to how a Ukrainian does or has to, you will have a really hard time understanding the real reasons for why the OR happened and where Ukraine may go from here, among other things. . .

So I'd like to set out here a kind of manifesto, or what I think one's attitude as a diaspora Ukrainian or Western expat should be toward Ukraine and Ukrainians while one is in Ukraine:

For starters, one's attitude should be one of non-judgmentality, and it certainly needs to be an attitude of not thinking that one needs to save Ukraine from Ukrainians. It has to do with giving advice when asked for it, and listening and learning otherwise. It has to do with not whining about living conditions in Ukraine, or the language situation, but accepting them and accomodating yourself as best as you can—for, how certain are you about your language ideology? Are you so sure that the word you just heard was Russian? And if so, so what? Many contemporary Ukrainians are not that bothered by the occassional word, and just because some Russian words have entered the lexicon, the language has not suddenly leaped into being Russian; Ukrainians in America often use English words; and Ukrainians in North America also often use phrases that are direct translations from North American English to Ukrainian that Ukrainians don't use; and so language changes, period.

This does not mean, however, that the Ukrainian government should not be more actively promoting the use of the Ukrainian language at an all-Ukrainian level: the general and robust use of the Ukrainian language, and the entrance of certain Russian words into the vocabularly, are related but not directly, and therefore are separate issues. Ukrainian speakers are speaking Ukrainian just fine in Ukraine, especially in the Western and much of the Central part of the country, and there is nothing wrong with people speaking Russian in the home and in public. Where the problem lies in terms of the language situation in Ukraine as far as I am concerned is with the fact that everyone who speaks Ukrainian can more or less speak Russian, but the vice-versa is not true. That needs to be changed, but not to the complete elimination of Russian either in the minds of Russians or Ukrainians of a future Ukraine. Multilingualism is one of the more fascinating aspects of Ukraine, and multilingual populism is actually Yushchenkko's stance, despite the Russian chauvinist propaganda machine working against him. Also, it would be a shame if Ukrainian speakers lost their ability to be fluent in two languages, and I don't know a single Ukrainian who resents actually knowing the Russian language. And of those I knew with whom I had explicit conversations about this, most said that what they have resented is that in Ukraine, the Ukrainian language has been treated as second to Russian, but not that Russian was bad. But so many diaspora seem to be plainly intolerant of Russian, period. This is the position of only a extremely right-wing minority in Ukraine, the same minority that rejected Yushchenko's candidacy because of his policy of tolerance for Ukraine's multilingual and cultural situation and because of his "American" wife. It seems to me that in general, such total and complete intolerance is not how most Ukrainian-speakers feel about the Russian language in Ukraine.

I think this is one instance in which Ukrainians have a much more progressive and open minded attitude than much of the Ukrainian diaspora; and its not the only instance in which Ukrainians in general seem to me to take a more progressive stance on an issue than their fellow Western kin. Nonetheless, almost every Ukrainian speaker I knew in Ukraine agreed that it would be to the benefit of Russian-speakers and of course of Ukraine in general if the level of fluency of Russian speakers in the Ukrainian language reached that of Ukrainian-speakers in the Russian language. And as far as I can see, such is the goal being set by the post-OR authorities, as well as is the goal of fluency in the national tongue toward which the governments in the Baltic states are working, regardless of what extremist and chauvinist Russian pundits and politicans are saying to and from the Russian diaspora. . .

But to return to our manifesto, a sincere diaspora or expat attitude also has to do with not whining about the culture of customer service in Ukraine or any other former post-Soviet nation but striving to understand and adjust to it, and therefore learning how to work with it, and by extension, with not assuming that everything the way it is done in the West is the best.

In short, all of this manifesto can be summed up by stating that the most important attitude of the diaspora or the expat is one of humility and willingness to live and learn.
None of this means, of course, that there is no role for diaspora Ukrainians or Western expats in Ukraine, and none of this means that Ukrainians are on the whole totally against or completely ungrateful or indifferent to us and what we can contribute to their nation's growth. NOT IN THE LEAST! But, whether you have Ukrainian heritage or not, it is THEIR nation! So I am talking about one's attitude toward work in Ukraine: the diaspora Ukrainian or expat should work with Ukrainians, not as their bosses (unless of course that is your business being there; but then, of course you should come at differences of approach without a condescending attitude about the way they have always done things. . .). One should not conduct one's self as if one knows better simply because one has knowledge and experience from the West! And one obviously shouldn't take advantage of one's privilege as a Westerner and the goodwill of many toward all things Western simply to get ahead. Thus I propose that for now on, the term for whenever a diaspora Ukrainian or an American expat lies or otherwise takes unfair advantange of his or her status as someone from the West and the situation in Ukraine for the sake of personal advancement, Zvarychism, whether one was motivated by a patriotic feeling or purely out of personal greed. . .
However, to switch back to Zvarych for the moment: it might not be that he told his lies simply due to a patriotic feeling. His near resignation over changes in oil prices and imports/exports policy when his wife works for and makes her money at a firm that is affected by such policy changes smacks too much of the kind of corruption the OR was to stand against; his lies, her job and his threat to quit his job, all seem like "communistic behavior" to me.So this is an opportune moment for Yushchenko et al to clarify their stance on their call for the diaspora and expats to come and help build a post-OR Ukraine. They could be saying, with this opportunity, something like: "We are more open to our diaspora kin and to Westerners in general than any regime has been in the modern history of Ukraine, but we also ain't gonna be suckers, neither! And part of our goal of improving conditions in Ukraine is so that our women have no more motivation to marry themselves off to cruising Western men looking for trophy wives half their age in our country! We will not be exploited! Come work with us with dignity! We, after our OR, have our dignity again!" And then let's hope people will be doing more thorough background checks on everyone in Ukraine, and not just those with suspected ties to the oligarchy. . .
So, in extreme contradistinction to the extreme of Zvarych (who is an extreme example of the diaspora Ukrainian or Western expat gone bad) and Zvarychism, here's a story of an American expat who lives in a village not far from my ancestral hometown, my beloved Pidhajtsi. I was told that there is an American guy in a nearby village who had been a Peace Corps volunteer who fell in love, not just with a Ukrainian woman whom he married, but also with life in Ukraine in general. He has been living in Ukraine ever since getting hitched. His reason for staying and wanting to live out the rest of his life in rural Ukraine is, supposedly, because he says that the peace of mind he finds possible in Ukraine is no longer available in the West. . .
When I return to Ukraine, either in the middle of this summer or in the fall, I will definitely be seeking him out for an interview. Such is the ideal of love for and acceptance of the country toward which the diaspora Ukrainian and/or expat American should strive (without necessarily going to the extent of chosing to move to Ukraine) to my mind, and I will seek to create a term for this more positive orientation of the diaspora and expat toward Ukraine from his last name. It will denote the opposite of Zvarychism!
Perhaps I am being a bit too harsh on Zvarych; Zvarych loved Ukraine quite a bit, too. He did take that same courageous step of giving up his American citizenship and moving to Ukraine. But his lies and his seeming manipulations in relation to his wife's business interests deeply tarnish whatever he has done that might be admirable. What was he thinking, I wonder, when he began his lies, and then continued them? Lieing to get ahead or into positions of influence and power, whether for the sake of Ukraine or for that of personal gratification (in Zvarych's case, it seems that both those things played a role), is not all that patriotic in the end: is it patriotic to abuse your privileges as a Westerner with statements like "I was a professor at Columbia," for no Ukrainian could get away with such a flippant lie; and thus is it patriotic to abuse people's goodwill and willingness to trust you, just to get ahead? And there is nothing wrong with personal gratification, so long as it achieved in a legitimate manner and within reason. . .